October 2019 Board Meeting Report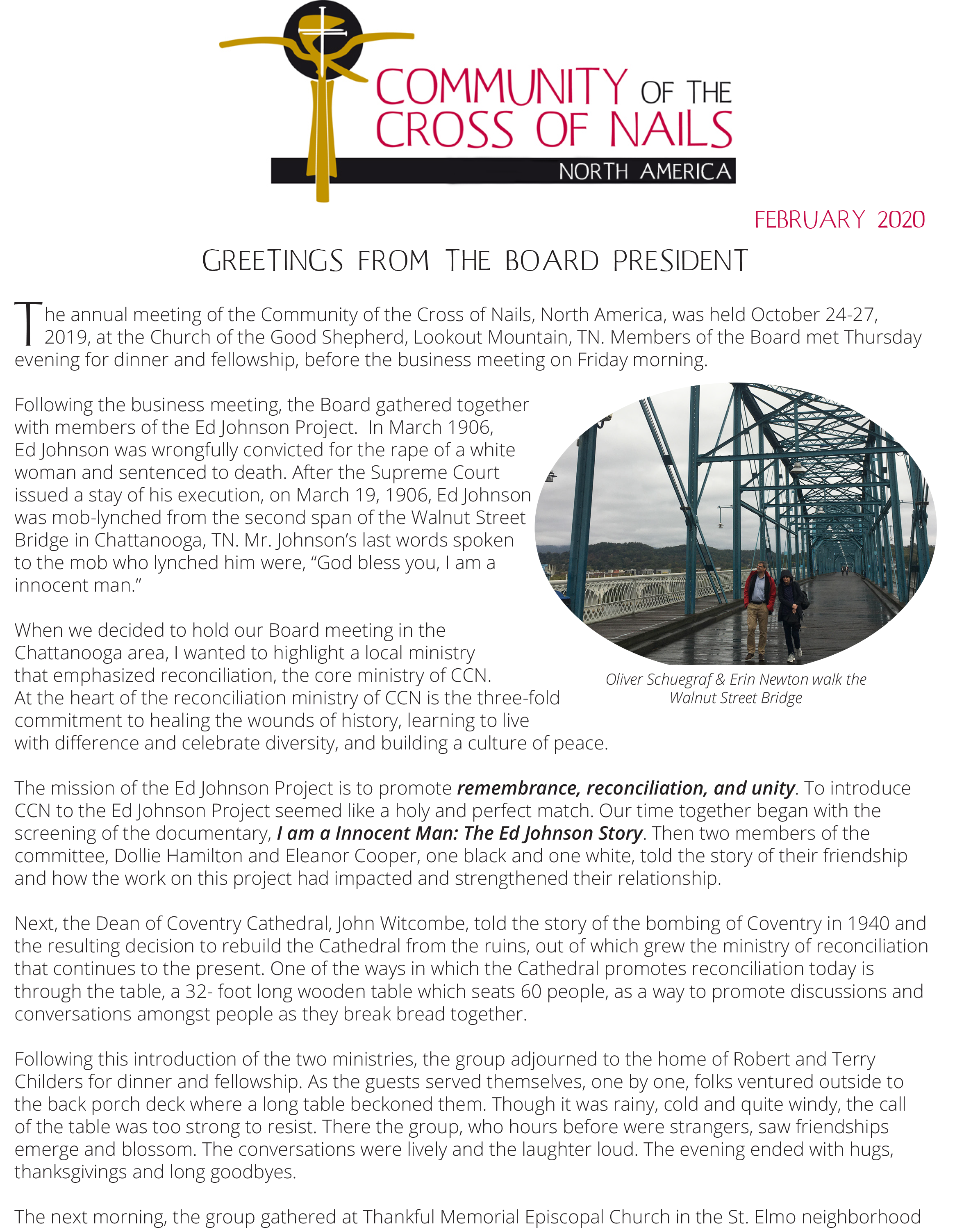 August 2018 Newsletter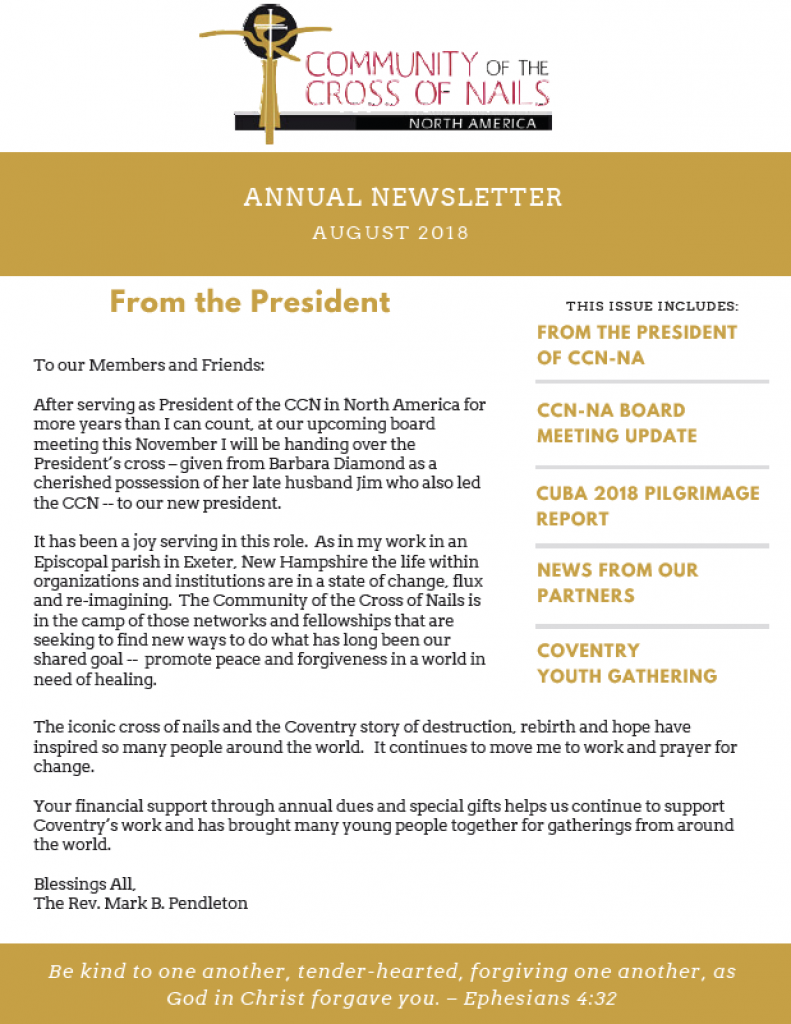 4 VTS Students Visit Coventry Cathedral
In January 2018, four students attending Virginia Theological Seminary embarked on a Cross-Cultural Education Program (CCEP)  which included a visit to Coventry Cathedral. They made a video about their journey and also maintained a travel blog which you can find here: A Place of Lumpy Crossings:Exploring Models of Reconciliation in Northern Ireland and England.
Healing the Wounds of History
A Community of the Cross of Nails Encounter to Miami, Florida and Cuba
February 1-2, 2018 (Miami)
February 3-10 (Cuba)
The Board of the Community of the Cross of Nails-North America will gather in Miami, Florida on Thursday and Friday February 1-2 for its annual meeting and then a group will journey to Cuba from Saturday February 3 – Saturday February 10.
From the beginnings of the Coventry story after the bombing of the cathedral in World War II, healing divisions has been at the center of its work of reconciliation.  From the U.K. and Germany, Palestine and Israel, and South Africa, the work involves deep listening, sharing stories, and face-to-face truth-telling encounters.  The hope is that this work will allow for the healing of history's wounds to bring closer those nations and peoples separated by past wars, conflicts and distrust.
The first portion of the experience will be based in the Little Havana section of Miami.  Our intention is to meet with Cuban Americans of different generations whose lives were impacted by the 1959 Cuban Revolution and subsequent waves of hundreds of thousands of Cuba émigrés to the U.S.  For decades an influential core of the Cuban American community in Miami has opposed any rapprochement of the U.S. with Cuba under Castro rule.   Many believe that younger generations of Cuban American are changing their views about Cuba.  Looking towards a future that is still in question as diplomatic openings under the Obama Administration are reviewed and Cuba's economy continues to decline as Venezuela spirals into economic crisis, these and other factors bring urgency to the dialogue.
While in Cuba we will visit the two initial Cross of Nails centers established back in the late 1980's: the Cathedral in Havana and St. Mary's in Santiago de Cuba.   These CCN partners based in Episcopal churches will allow the Cuba portion of the encounter to look both at the broad social and political realities impacting continued strained relationships between the two nations (specifically the U.S. embargo) and will also give us a vantage point to look at the interconnected history of the Cuban Episcopal Church and the U.S. based Episcopal Church as conversations continue to invite the Cuban church back into The Episcopal Church
[From the Archives of the Episcopal Church Research Report: The Episcopal Church and the Church in Cuba after the Revolution Date: November 24, 2015)  Separation from The Episcopal Church, 1966: Following the Revolution, the number of Cuban communicants dropped dramatically after nearly 75% of the island's Episcopalians fled to the United States. Local churches were substantially affected by the subsequent loss of financial support with few assets and no Church-wide reserves to draw upon. By the mid-1960s, anti-church sentiment in Cuba was pronounced: entrance to churches was barred, prayer books were burned, and all religious education was outlawed. This tense political situation was the backdrop to the House of Bishops' vote at a special meeting in October 1966 to make the Missionary District of Cuba an autonomous jurisdiction.  Bishop Gonzalez of Cuba later noted: "autonomy was granted because of the circumstances of our situation. It was not requested by the Church in Cuba."]
Partnering with the Friends of the Episcopal Church of Cuba on Hurricane Irma relief
August 2017 CCN-NA Newsletter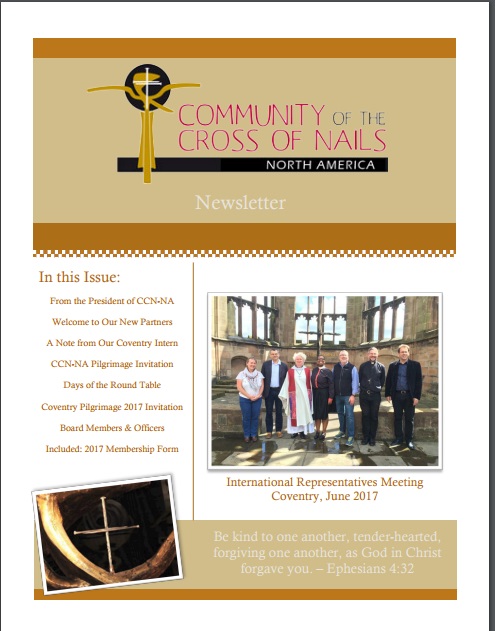 Some Photos from the CCN-NA Board
Meeting at VTS
Our CCN-NA board recently met for the annual board meeting at Virginia Theological Seminary in Alexandria, VA and were able to take part in welcoming VTS into the Cross of Nails as our newest partner.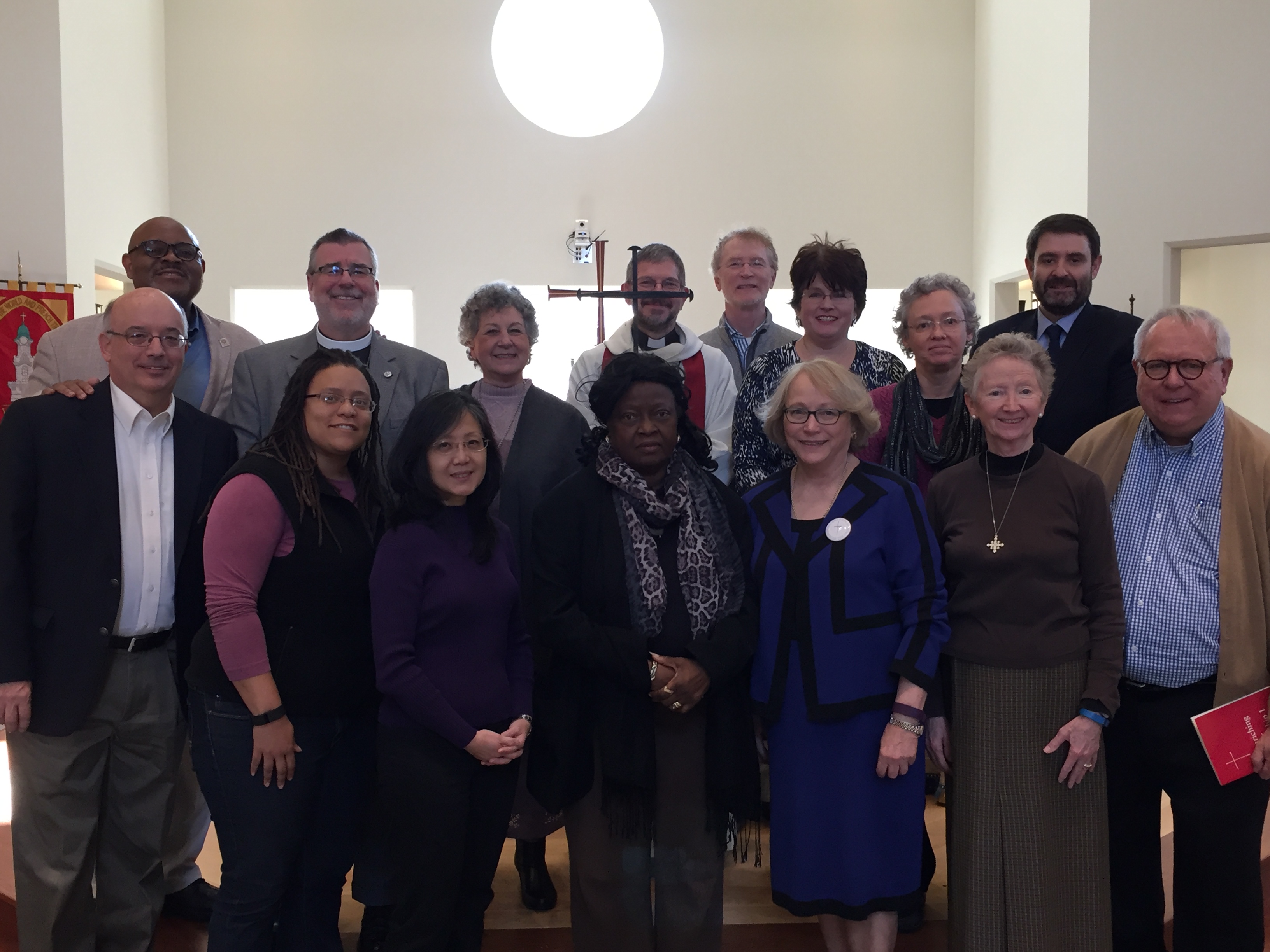 Reconciliation, Reflections on Coventry's Role
In this inspiring film, all six Canons for Reconciliation since the role began share their thoughts, insights and memories from their time at Coventry, and their hopes for future ministry.
St. Mark's Icons of Peace Lecture Series
St Mark's Episcopal Church & School in Palm Beach Gardens, Florida hosted their third annual lecture series on the topic of peace.
The yearning for peace is a common call among people, regardless of faith, race, gender, generation, or socio-economic status.

St. Mark's Peace Lecture Series Program
Individuals were invited to attend three evenings where leading experts chronicled the history and teachings of iconic peacemakers.  Lecturers included:
Dr. Terriel R. Byrd, Professor of Christian Ministry Studies at Palm Beach Atlantic University: "MLK, Jr. and the Global Age: Implications for International Peace and Social Justice"
Dr. Douglas McGetchin, Associate Professor of History at Florida Atlantic University: "Confronting Violence: The Value of "Mahatma" Gandhi's Nonviolent Methods"
The Right Reverend Peter Eaton, Bishop of the Diocese of Southeast Florida: "Jesus Christ: Ultimate and Immortal Icon of Peace"
To find out more about the program, click here.
John Witcombe: Coventry Cathedral and Reconciliation
The Very Rev. John Witcombe, Dean of Coventry Cathedral, talks about Coventry Cathedral's mission and vision of reconciliation over revenge after it was destroyed during World War II. For a bio and study questions, go to tinyurl.com/johnwitcombe.
Lessons of St. Louis and Ferguson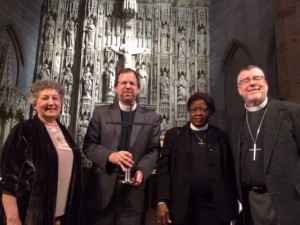 I had only traveled to St. Louis once before this past weekend. What brought me to this gateway city this time was my role as president of the Community of the Cross of Nails in North America — part of a worldwide network of individuals and churches inspired by the Coventry Cathedral (England) message of forgiveness and commitment to the ministry of reconciliation.
Members of the board met in St. Louis the weekend of Nov. 13-15, 2015 to encourage the ongoing ministry of Christ Church Cathedral and its dean the Very Rev. Mike Kinman. The Cathedral has been a place of welcome and support to those involved in the peaceful protests after the civil unrest in nearby Ferguson, Missouri that followed the shooting death of Mike Brown by a police officer in the summer of 2014. In addition, when black churches began to be targeted by arson in and around Ferguson, the Cathedral led an effort to raise $700,000 from 300 Christian, Jewish and Muslim congregations around the country to help the burned churches rebuild.
Board members traveled to Ferguson to learn about the Black Lives Matter movement. What many of us know and think about this movement that began as #BlackLivesMatter on Twitter reflects in many way our own background, age, color and politics.  What I wanted to learn was why the often expressed rejoinder to "Black Lives Matter," namely "All Lives Matter," stuck such a cord of disconnect with many activists.  What seemed clearer to me was that yes, all lives do matter, but the pain and oppression that is being expressed in the Black Lives Matter movement is a unique cry of a broken society. In our inner cities especially when black boys and men come into contact with the authorities and come out on the losing end of the encounter, it can and does seem to them that their lives mean next to nothing.  I get that.
We visited and stood outside the well funded and fortified Ferguson Police Department — site of much of the marches and vigils. Like many smaller cities, more and more tax revenue had shifted towards fines and penalties, and subsequent jail time for those unable to pay. This widespread practice has led to growing resentment and a growing divide between the police and the local poluation. We also gathered for conversation and a good lunch in a local black-owned business that was one of the few restaurants to remain open throughout the protests and violence of last year.
We went to the street in Ferguson where Mike Brown was shot and later died. It felt like a pilgrimage, as we were not to litigate the case or to stand in judgment. We were there to be reminded that his lifeless body was left for four hours to bleed out onto the hard street before it was finally removed.  To many who watched on that hot summer day, it seemed that his life mattered little.  But it mattered to his family. It mattered to him. His life should have mattered more to all of us.
As we were ready to leave, the dean led us in silent prayer, and seconds after we responded "Father Forgive" the silence was interrupted by gunshots fifty yards away. We could see and hear cars fleeing the scene as some young people ran away by foot. Once we realized it was gunfire and not firecrackers, the group quickly moved behind the apartment building and soon got into our cars a left the area, making sure we drove by and scene to see if there had been injuries or even worse. Silence and prayer gave way to the shots of violence.
It was a sobering and surreal moment that reminded us that many cannot simply get into cars and leave, as we did, and that that gun violence is all too prevalent in this country and takes the lives of many innocent. As the dean commented, "the gun industry has sold the idea of fear to the white population and power to the black population."
After a beautiful liturgy in the Cathedral Sunday morning when we presented a Cross of Nails at the altar to the Wardens and Dean, we departed St. Louis with a greater appreciation for the racial reconciliation witness and ministry of our newest CCN partner. Our prayer and hope is that their story will inspire and motivate others in this worldwide network. It certainly inspired me.
The Rev. Mark B. Pendleton
Rector, Christ Church in Exeter, NH and
President, CCN-NA
Trinity Episcopal Church of Tariffville, CT and Kateri Medical Services, Inc. Receives Cross of Nails for Reconciliation Work in Nigeria
Tariffville, CT – Trinity Episcopal Church of Tariffville, CT and Kateri Medical Services, Inc. will receive a Cross of Nails for Reconciliation Work in Nigeria.  On Sunday, May 31, 2015 The Very Revd John Witcombe, Dean of Coventry Cathedral, England will present the Cross at a special worship service in Tairiffville. Dean Whticombe represents the international Community of the Cross of Nails.
Since 2002, Trinity has worked in partnership with the Diocese of Kaduna, Anglican Church of Nigeria to fund and facilitate basic, decent and affordable medical care for the rural poor in Nigeria and to build bridges of reconciliation between Muslims and Christians.
Kateri Medical Services, Inc is a 501c3 corporation founded by Trinity to advance the work of medical missions in rural Nigeria. Kateri Medical Services has a threefold goal in their regular, year round clinic: 1) to demonstrate the love of God through medical care, 2) to minister to the spiritual as well as physical needs of people, 3) to foster social healing and reconciliation between Christians and Muslims.
Beginning in 2008, a three-way partnership was begun between Trinity, Kaduna diocese and FaithCare, a faith-based medical outreach ministry based in Farmington, Connecticut which enabled annual intensive medical missions of two weeks duration. During these missions, around 6,000 people are served with a full range of medical care, including eye care, dental care, basic medical care and surgeries.  In addition to medical care, each participant has an opportunity for prayer and spiritual counseling.
These medical missions are conducted in a area of Nigeria in which there have been intense rivalries and violence between different faith groups.  The annual summer missions are specifically designed to bring Christians and Muslims together. Trinity pastor, The Rev. Tom Furrer , who organizes the trips each year says: "We try to present an alternative narrative to the prevailing culture of violence and mistrust between Christians and Muslims.  We offer medical care with dignity to everyone who comes.  About one third of our patients are Muslims.  We show them love from their Christian neighbors.  For the last two years, we have also had two Muslim doctors and one dentist work alongside of the Christian medical workers. In this part of the world, this is a radical act of courage.  In working together, we are trying to break down the walls of mutual suspicion and animosity."
Bishop Josiah Fearon, the spiritual leader of the diocese of Kaduna Nigeria says this: "We are very grateful for the long-standing partnership between our diocese and Trinity Episcopal Church in Tariffville.  The support, partnership and friendship from Trinity gives us strength and encouragement to do the hard work of reconciliation in our troubled land.  We are especially keen to end the violence.  Trinity's contribution of funds and enthusiastic volunteers is a great encouragement to us."
The Community of the Cross of Nails (CCN) is an international, ecumenical fellowship of individuals and groups who are committed to the ministry of reconciliation. This means reconciliation with oneself, one's family, the local community, the worldwide community, and God. The goal of the CCN is to bear witness to the power of forgiveness, to build new life out of the world's brokenness. Partner groups or organizations are presented with a Cross of Nails when they are welcomed into the community.
The Rev. Mark Pendleton, President of the Community of the Cross of Nails – North America is excited to welcome Trinity Episcopal Church into the Community of the Cross of Nails and says, "
" We are delighted to welcome Trinity Church in Tariffville and Kateri Medical Services into CCN. We recognize and commend the great work of they are doing to bring medical care to some of the poorest people on earth and to foster reconciliation between Christians and Muslims in a very troubled part of the world. Their work is a shining example of the kind of ministry that CCN is doing all over the world.
"Currently, they are now building a second clinic in the south eastern part of Kaduna diocese to serve another rural poor population.  Building on the work of reconciliation between Christians and Muslims, this new clinic is being built on land donated by a local Muslim village chief. The clinic will be located between a mosque on one side and a Roman Catholic Church on the other side – a power symbolic location and they are working hard to integrate the Muslim and Christian communities into the work of the new clinic. Since 2002, their partnership has provided simple, basic and affordable medical care to more than 120,000 people. When the new clinic is up and running, they except to double the annual patient load. Their goal and vision is to continue expanding their clinics to more and more rural areas as time, energy and funds permit."
For More Information:
Trinity Episcopal Church, Tariffville, CT
Kateri Medical Services, INC
FaithCare
The Rt. Rev. Dr. Douglas John Fisher, The Very Rev. John Witcombe & The Rev. Mark Pendleton at Springfield Chapel Rededication
The side chapel in the South Transept of Christ Church Cathedral in Springfield, MA was renamed and rededicated on May 30, 2015. The Very Reverend John Witcombe, Dean of Coventry Cathedral, England and The Rt. Rev. Dr. Douglas Fisher, Bishop of the Diocese of Western Massachusetts, were present at the service. It was a historically significant moment for Christ Church Cathedral, and was an opportunity for the diocese to recommit themselves to the ministry of reconciliation.
Canon David Porter Shares Lessons Learned About Reconciliation
Canon David Porter Shares Lessons Learned About Reconciliation Episcopal News Service recently interviewed Canon David Porter where he shares lessons he has learned about reconciliation.
We invite you to read his article on Episcopal News Service.
Photo credit: John Armstrong, Episcopal News Service
News from our Partners in Florida
Watch this video from our partners at St Mark's Episcopal Church in Florida.

La Habana, December 17th, 2014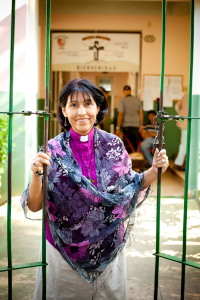 Statement by the Episcopal Church of Cuba regarding today's events.
For the Cuban people, today's events hold great meaning for our future. The steps taken today between the governments of Cuba and the United States, by announcing the re-establishing of diplomatic relations and, in consequence, to proceed with the release from prison of the three Cuban compatriots, and the USA citizen Alan Gross, among others, put in evidence that dialogue, the will for mutual understanding and respect even in the midst of great differences, are basic elements for the relationships between peoples and governments.
We give thanks to God for the return of them all to their families and countries, as well as for the recognition of putting an end to the breakup and to create great possibilities for understanding and respect in relations. We give thanks to God for the bridges of hope that churches in both the United States of America and Cuba have affirmed for several decades now, even in politically difficult moments. Especially, we give thanks for the Episcopal Church in the United States which, through many different means (travel, exchanges and advocacy) has accompanied our Church and, therefore, has accompanied our Cuban people.
We ask God that the Holy Spirit will guide the political leadership both in Cuba and the United States towards making wise decisions. That it will bring light to the new times and challenges for the Cuban people. That this same Spirit will allow us to rebuild, even within differences, peace and understanding between our two peoples, and to affirm our commitment to defend truth, justice and peace, which come from the incommensurable love of the Triune God.
The feast of Christmas, which we will soon be celebrating, is the project of incarnated love, which becomes a contextual reality today. Jesus is born so reconciliation and peace may come to the lives of women and men, of families and communities, of peoples and nations. May the light of Christmas be a source of blessing for both our peoples.
The Rev. Alfredo Nuño, Chair, Standing Committee
The Rt. Rev. Ulises Agüero, Suffragan Bishop
The Rt Rev. Griselda Delgado, Diocesan Bishop